Sometimes you have to tease the twitter algorithms to find out the truth. The easiest way to find out what part of the Corona Psyop is really off-limits is to basically attach your trial balloons to one of THEIR #HASHTAGS like the sleazy #vaccinated


Otherwise they have no problem at all with misinformation and red herrings floating their space, as long as you do not try to find out the true purpose for the INJECTIONS. I previously tweeted about that, this tactic is called "prisoners dilemma, a zero sum game.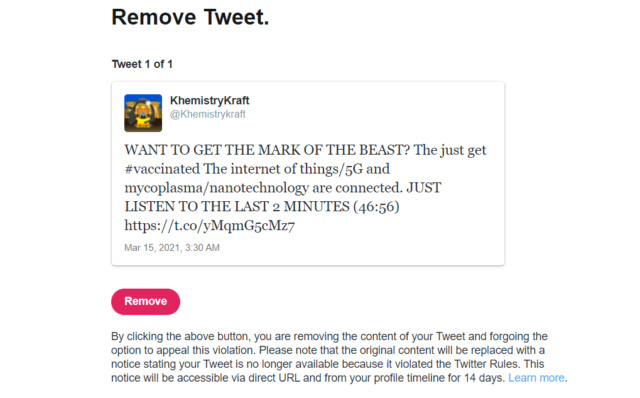 Don't you ever call their technology "MARK OF THE BEAST" in connectiion with their SYNTHETIC mRNA prion-factory injection ey, and link any relevant information, where these tech lords actually tell you that they got just that kind of thing "just around the corner" a couple years before "the Rona" impacted the earth, ey..

Just listen to the last 2 Minutes [46:35] of this "Singularity talk" from 2017 to get the picture:





If you thought that is wild, you may want to watch the whole thing. I would recommend it.


The internet of things/5G and mycoplasma/nanotechnology are connected.

If we don't educate ourselves and others... much sooner than you think...we are done. .

But why would they allow us to even post anything about the "Rona"? Because as I have mentioned, they can even use us against us (zero sum game) to achieve their objective, which is to get the mentally weak line up voluntarilly and to play us all off against each other.

We have to have patients and prepare, eventually they will be all exposed.

This thread is decicated to connecting all the right dots!


Let's begin with the MEDIA's own fake news, manipulation & censorship
of Scientist, Doctors and other prominent critics.

WATCH THE MOVIE - SEEING 2020 : THE CENSORED SCIENCE OF THE COVID-19 PANDEMIC

https://www.bitchute.com/video/G78ePAFQQDSr/


The year 2020 brought COVID-19 to the world and changed nearly everything. So many voices and conflicting information telling us what to do and how to protect ourselves, it has been hard to know who to trust.

Now we can look back with 20/20 vision and see clearly for the first time. This film details the experiences of a group of doctors who have been censored for asking difficult questions and pushing against the prevailing narrative. It reveals the consequences they faced for speaking out and providing treatment for those afflicted or at risk.

We encourage freedom of thought and freedom of speech. Science is based on unbiased observations and systematic experimentation and is discussion at its core. We must be able to ask and be heard.
Living Computers: RNA circuits transform you cells into Nanodevices
"In new research, Alex Green, a professor at ASU's Biodesign Institute, demonstrates how living cells can be induced to carry out computations in the manner of tiny robots or computers.
The results of the new study have significant implications for intelligent drug design and smart drug delivery, green energy production, low-cost diagnostic technologies and even the development of futuristic nanomachines capable of hunting down cancer cells or switching off aberrant genes."
Just remember that this technology can be used to switch genes that will make you fat, stupid, and lazy.
Just remember that CRISPR, the gene editing program, is made effective through injection.
"CRISPR Treatment Is Injected Directly Into a Patient's Body — a First for Gene Editing." From google.
https://www.sciencedaily.com/releases/2017/07/170726131758.htm
CRISPR treatment inserted directly into the body for first time
Experiment tests a gene-editing therapy for a hereditary blindness disorder.
Correct. They aren't chips.
https://www.nature.com/articles/d41586-020-00655-8
But can these "cell computers" be controlled by 5g?

https://en.m.wikipedia.org/wiki/Nanoradio
A nanoradio (also called carbon nanotube radio) is a nanotechnology acting as a radio transmitter and receiver by using carbon nanotubes. One of the first nanoradios was constructed in 2007 by researchers under Alex Zettl at the University of California, Berkeley where they successfully transmitted an audio signal.[1] Due to the small size, nanoradios can have several possible applications such as radio function in the bloodstream.[2]
At this point it should be obvious that the cellular signals, 5g, and soon 6g are going to be used not to give you instant entertainment but access to all the data from all your cells and brain function in order to manipulate it on the fly, or by instruction to be downloaded later.
Now let's put this together.
Who has that article about 5G causing the corona virus? Because now, if your cells are logical constructs, 5G can be used to program you to have COVID-19
Congratulations.
5G Technology and induction of "coronavirus" in skin cells
5G Technology and induction of coronavirus in skin cells
A new question arises regarding a relationship between 5G technology and COVID-19. The 5G technology is the fifth-generation mobile technology in which its frequency spectrum could be divided into millimeter waves, mid-band, and low-band.
Qoute wrote:

The next stage of research will focus on the use of the RNA toehold technology to produce so-called neural networks within living cells -- circuits capable of analyzing a range of excitatory and inhibitory inputs.  Because we're using RNA, a universal molecule of life, we know these interactions can also work in other cells, so our method provides a general strategy that could be ported to other organisms," Green says, alluding to a future in which human cells become fully programmable entities with extensive biological capabilities.
A BILL

To require member banks to maintain pass-through digital dollar wallets for certain persons, and for other purposes.
S.3571 - Banking for All Act
See where this is going now?
WO2020060606 - CRYPTOCURRENCY SYSTEM USING BODY ACTIVITY DATA
Well isn't that just great. Now they'll give you "vaccines" that are designed to make your cells mine crypto coins.
Dr. Vernon Coleman says that once you get the "WuFLu vaccine" there is no turning back. We, the unvaccinated, are at greater risk from the vaccinated than those with WuFlu. Is this why Fauci recommended decreasing the distance we stand from each other? Do they want us to be infected?
Those unvaccinated need to stay away from those that have been vaccinated. We have no idea how long they will be shedding "whatever" and they are at increased risk of giving this MUTATED "whatever".
I know this is complicated. Most of us are not medical. But you can pretty much guess that if they are pushing something, it's not good. If they make it mandatory, run!
The people that run Big Pharma are not doctors, they are business majors that are looking to make big bucks, not save peoples lives.
https://www.bitchute.com/video/PUxflU1g8HhP/
And if you are still sitting on the fence about this, here it's coming right out of Mr. Global's evil mouth..
Klaus Schwab: Great Reset Will "Lead to a Fusion of Our Physical, Digital and Biological Identity"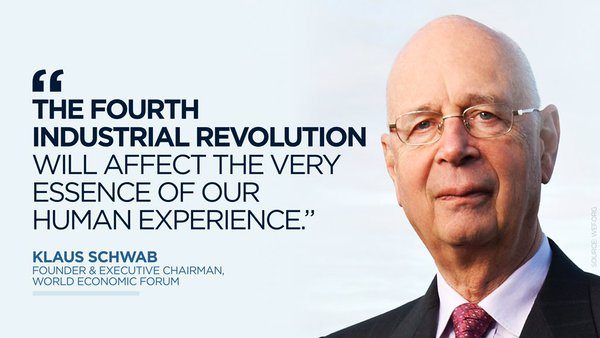 SO... ARE YOUR READY TO TAKE THE MARK OF THE BEAST?
And that no man might buy or sell, save he that had the mark,
or the name of the beast, or the number of his name.
---
Permissions in this forum:
You
cannot
reply to topics in this forum